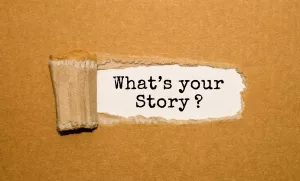 As a recruiter, I understand that stories are a fundamental part of human communication. They have the power to connect us, teach us, and inspire us. That's why, as a candidate, sharing your experiences through stories can be a valuable asset in a job interview. It not only provides insight into your past accomplishments but also demonstrates your unique personality and character.
To help you craft a compelling story, here are six types of storytelling tactics that you can use:
"Who I am" stories, which identify who you are and where you come from.
These are stories include personal challenges you've faced, your journey through college or work experience, and stories that show you as a loyal and quality employee.
"Why I am here" stories, which explain what you can do for a new employer.
These are stories should be positive and engaging, explaining why you want to change jobs or why you are seeking a new position.
"Vision" stories, which are about the future and what the company could look like with you on board.
These are stories are based on your past experience and the changes and impact you have had on companies you have worked for in the past.
Learning stories, which are about what you have learned from successes or failures.
These are stories are your own or those of others. People love to hear about how you overcame failure and what you learned from it.
Value stories, which showcase values such as honesty, integrity, character, and doing the right thing.
These are stories are about how you learned the value of hard work through having multiple jobs in college.
"I know what you're thinking" stories, which address potential concerns that a hiring authority may have about your background or experience.
These are stories demonstrate that you are proactive and have thought about how to address any concerns
While it can be challenging to master these tactics, having a few personal and business stories that are concise and highlight key points in your career will suffice. It's also crucial to have stories that address any potential concerns a potential employer might have before they even bring them up. This demonstrates that you are proactive and have thought about how to address any concerns. By utilizing these storytelling techniques, you can create a compelling narrative that will engage and persuade your potential employer, increasing your chances of securing your next job.