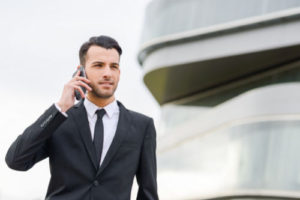 I know of one young man who graduated from an Ivy League university. He wanted to get into the investment banking business. In the very middle of an economic recession, he was determined to find a job. With my help, he devised a script to get the attention of any investment banking organization that would listen to him.
He took the NYC phone book and called every investment banking firm listed. He went right down the list, not skipping any, and asked for the "manager or the managing partner." This is what he said:
"Mr. / Ms. Smith, my name is Bill Jones and I'm a new graduate from Columbia University. I'm looking for career in the investment banking profession and I am willing to begin as an unpaid intern. I'm a very hard worker and it will cost you nothing for me to work for you. If I prove myself, and there is an opportunity, I hope that you might hire me. If after 90 days I don't prove to be a valuable employee, you can send me on my way.

"May I come speak to you tomorrow morning or tomorrow afternoon?"
He heard mostly "NO," but kept on calling.
He got hired by a small branch of an international investment banking firm. One of their analysts had to abroad for 90 days and he convinced them to hire him for that time. He ended up staying with the firm for two years (yes, they paid him for the 90 days). The experience led to a position a major New York bank, where, as of this writing, he is a vice-president.
He experienced numerous objections and refusals, but his persistence and determination landed his first job and led to a tremendous career.
Analysis of the script
This script employs a very simple, but very strong, strategy. The idea is to sell a face-to-face interview with the hiring manager whether there is an open position or not. You are not asking if there is a job opening; you are asking to be hired. The script is meant to be forceful and to the point.
There are a few crucial aspects of the script:
1. Do not ask the receptionist for "the person doing the hiring." Nine out a ten times you will be sent to a dead end in the H.R. Department.
2. Instead, ask for the manager of the department for which you want to work. For example, if you were looking for a sales position, you would ask for the sales manager.
3. When speaking to the hiring authority, you have to provide a meaningful feature or benefit justifying a meeting with you. This is very important! If you simply call and ask for an interview, without giving specific features or benefits to the prospective employer, you won't get to first base.
This is simple stuff – if you are aware of what you're doing. Here are some examples:
"Hello, Mr./Ms.Smith. My name is Sally Jones and I am a new graduate <veteran> <etc.>. I'm offering hard work, commitment, and determination to a future employer."
"…a new graduate of <college name>. I worked my way through college, paying all of my own expenses while maintaining a 3.4 grade point. I will apply the same kind of diligence and commitment to my next employer."
"…a new graduate of <college name>. My degree is in engineering, and I graduated #4 in a class of 200. I was also very active in my sorority where I held two leadership positions. I will bring that same kind of performance to my next employer."
"…a new graduate of <college name>. I worked two jobs while attending college although, since I had to pay for all of my tuition and expenses, it took me five years to graduate. I did graduate with excellent grades in my major, and I'm ready to bring that kind of commitment and determination to a new employer."
Then, after each one of these presentations, you would say:
"I would like to meet with you to discuss my potential with your firm. Would tomorrow morning at 10:00 a.m. or tomorrow afternoon at 2:00 p.m. be best for you? "
The idea behind these features and benefits is to clearly demonstrate that you are a superior candidate with unique talent and a determined work ethic. Simply claiming those qualities is not enough; you have to provide supporting evidence.
Keeping track of the process
You absolutely have to keep good records of these calls. Your job search may take three, six, or eight months and you need to be prepared for that possibility. If you follow my advice, you're going to talk to numerous people multiple times. Just because a company has no opportunity today, does not mean that there will not be one next month.
For every 50 calls you make in the manner I suggest, you'll probably reach about 10 hiring managers. You will uncover one opportunity, on average, for every 30 to 40 managers with whom you speak. In other words, you might have to make 150 calls or more to get one interview. I wish I could tell you it is easier, but this is what it takes to be successful. Don't complain – this is what you have to do to be successful, so just do it.