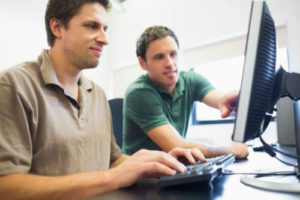 What Career Services Offices can do for college and university students. (Much of this information was provided by Mr. Jerry Alexander, a veteran Career Center Director, currently with the University of Texas system.)
Don't overlook what your school's career counseling service can do for you. A recent study found that the career counseling service is one of the most frequently used services compared to other university student services. However, a recent Gallup survey sponsored by the National Career Development Association showed that 60% of the college graduates would try to get more information about job and career options if they were starting over.
Most students, who don't take advantage of their school's career counseling service, claim that they visit the service to see if they have job opportunities available or posted. If they don't immediately see job postings, they leave without knowing what other kinds of services they might receive.
Most career centers provide a staff of counselors who work with students at all levels to effectively manage career development and implement career plans. Through individual and group sessions, counselors assist students in exploring career options. Researching 150 college and university career counseling offices we found the following service available. Not all schools have all of these offerings. But you owe it to yourself to investigate what yours may have. The services that may be offered are:
selection of majors, early planning
assessment of interests, abilities, values and skills inventories and assessments
exploration of occupations, career trends, job market possibilities
implementation of job search strategies
resume service, resume workshops
internship and volunteer possibilities
seasonal and temporary jobs
mock interviews, interview coaching
on campus career fairs and career fair coaching (for both on and off campus)
alumni visits, advise from alumni, alumni lists and alumni hiring
parental advise for helping your career
individual employer visits
etiquette guides for interviewing, dining, dress and correspondence after the interview
employer research services
technical portfolio management advise
negotiation of job offers
preparation for graduate school admissions.
Many Career Services Offices sponsor campus recruiting and job referral programs that include information about full-time positions, internship opportunities, and part-time or summer jobs. Online systems allow the candidate to create a profile for review by employers, to view all active campus interview and job listings, and to submit resumes and cover letters for specific positions.
Career Services offices many times provide a library with career and occupational information including reference books and periodicals; government, nonprofit, and company publications; and videos. Common online guides include the Wetfeet.com or Vault.com Online Library.
Career Services staffs provide individual guidance for the development of an effective job search campaign. Staffs offer workshops and online guides that explain effective techniques for résumé and cover letter development, interviews, networking, and job search planning.
Career Services staffs, in conjunction with faculty, are an important resource in the admission process for graduate and professional school applications. Staffs assist students in developing strategies for selection of target schools; in preparing resumes, applications and personal statements; and in responding to questions about the admissions process.
A key component in the development of an effective career plan is the utilization of an alumni network to learn more about occupations related to the student's career interests; to gain an in-depth understanding of career paths within industries/companies; to serve as a guide to the job search process; and to provide an internal marketing agent for a specific job/company.
To effectively use the services of the office, students should meet with a career counselor early in their college career to develop strategies for success.