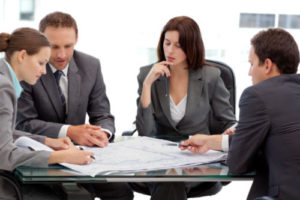 There are many types of employment recruiters, and today, most do not charge the candidate for their services. This was not always the case. From the 1960s through even the early 1990s, the candidates, or "job applicants" as we called them then, paid all or some of the recruiter's, or employment agent's, fees. The nature of the economy has changed and most of the hiring organizations pay the service fee.
Typically, the fee was not incurred until the candidate was actually hired by an employer presented by the employment agency. Any agency that sought an up-front payment was considered a scam artist. Compared to the majority of recruiters today, the fee-based employment agent does focus on the candidate. He/she is essentially an "agent" for the candidate. Employment agencies are more oriented toward "marketing" a candidate to potential employers. They are candidate-focused rather than employer-focused.
Don't hesitate to "register" with any organization that might get you good interviews. However, I would recommend avoiding those consultants or agents who want to charge you an upfront fee or any fee before they have actually found you a job. There are firms that will claim that they will market you to "hidden" markets, or provide you "secrets" of the market place….for an up front fee. Don't do that!