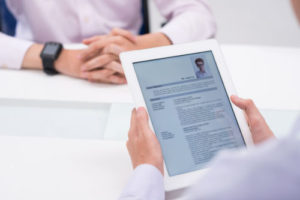 There are 56,000,000 resumes on the Internet. It is estimated that for every job posting on the Internet, on more than 40,000 job boards, the companies receive 275 resumes. The probability of you being hired by chasing job postings isn't very great. This is especially true if you simply e-mail your resume and wait for a response.
If you send a resume to a company, I recommend that you follow-up that resume with a phone call to a hiring authority. Perhaps you'll say, "But Tony, I don't know who the hiring authority is," or, "they send me to the personnel department every time."
I provide the script below that will teach you how get past those two roadblocks. You will need to practice, and it takes a bit of courage and tenacity, but you will find the script works like a charm.
When you see a job post online, use the Internet to research the employer. Pick up the phone and call the company, asking for the title most likely to be hiring for that position. You may have to call a number of times before reaching the person. I will teach you what to say, but you have to be aware that this is likely the only way we're going to land a face-to-face interview.
Online Applications. It certainly can't hurt to apply to companies online, just don't expect much. Entry-level candidates often apply this way and simply wait for a response.
WARNING: Be absolutely certain that you are dealing with legitimate companies. Do not provide any personal information other than on your resume. No social security numbers, bank account numbers…anything.
I personally do not like online applications. They are too impersonal. They can be helpful employers seeking specific experience, but most other opportunities generate too many resumes, and yours will probably be deleted. The vast majority of companies in America do not require online applications.