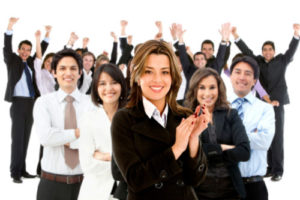 "Those who say some people were just lucky because they were in the right place at the right time don't realize that the lucky ones show up at a lot of the right places a lot of times."
Tony Beshara
Next to performing well on interviews, which is covered later in this program, the most important hurdle to getting a job is securing the face-to-face interviews. Obviously, you can't perform well on the interview until you have an interview. That interview needs to be face-to-face, with a manager who has authority to hire and feels the "pain " from an urgent need to hire someone.
You cannot really control whether you are offered a job. You can only influence the hiring manager to offer a job – by interviewing well and selling yourself. However, even if you are the best person for the job, you can't make them offer it to you.
While you cannot control job offers, you can control interviews – their number and how they are conducted. Securing interviews is hard work. Certainly, it requires tenacity and technique. For most people, however, it also requires courage – they are not comfortable initiating conversations or don't have the natural instincts for doing it. To these people, it can be a daunting, if not excruciating, task.
No one likes rejection. Unfortunately, it is a risk one must face to find a job. Accept that reality and prepare for possible rejection then get to work. Pristine resumes, brilliant research, and great contacts – even superior references – do not increase your odds of finding a job anywhere near as much as numerous interviews will.
WHO YOU GONNA CALL?
The most effective vehicle to get face-to-face interviews is going to be for you to pick up the phone and call everyone you can, whether you know them or not. Find people available for an interview that might result in you being hired. Find an employer with a "pain" that your employment can solve.
Think of all of the people that you can call. Below I provide the "script" you should follow in those calls, but first, you need to identify who you are going to call. Write on the form provided below the names of people that you might call to get an interview or a referral for an interview. Here's a partial list of the types of people you should consider:
Companies you have worked for, part-time
People who are a generation older than you
Employers where your peers might have worked part-time
Parents of your peers and friends
Your immediate and extended family, as well as friends of all of these people
Alumni of your school
Alumni of your fraternity or sorority, if that applies
All of the people recommended by your college or university placement offices
Bankers of your parents or friends (bankers usually know which companies in their area are expanding).
Hometown contacts
Internet postings
Newspaper ads (maybe fewer today, but don't overlook them.)
Professional service firms to which your degree applies, i.e. accounting, engineering, architecture, marketing, banking etc.
The reality is that very few positions available to first-time job seeker, recent graduates, and others with very little experience are ever going to be advertised. However, the companies hiring the experienced people may also consider someone with little experience – for the right salary. Don't hesitate to call companies who are advertising for experienced people.