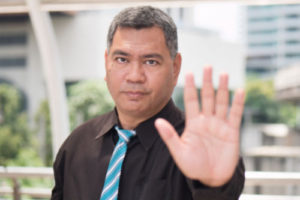 The first step in your plan to deal with negativity was to understand and expect it. The second step of the plan is to have a plan – a job search plan. Obviously, you have already started that plan because you are using this program, but here's the secret you probably didn't know: simply having a plan and working it is your best defense against stress and depression.
Through the Tips on this site, you will learn how to take "Massive Action" with your job search campaign. By executing that action plan, your focus is not on problems or frustrations. Every day you work the plan and every day you see results. Focus on taking positive steps and all your steps will be positive.
The final step to dealing with negativity can be the most effective. I recommend that you read or listen to inspirational and motivational books, tapes, and CDs. Watching television, playing video games, going to the movies, or even listening to music can help your attitude by letting you forget your problems for a few moments, however as soon as you stop those activities the feelings return and you've made no progress. Motivational messages stay with you after you have stopped reading or listening. They go with you into the interview room.
Here is a partial list of books and tapes I've reviewed and can recommend as you look for a job. They will get you through the difficult times – and there will be difficult times.
Books:
Acres of Diamonds, Russell Conwell
The Richest Man in Babylon, G. Clason
Man's Search for Meaning, V. Frankl
As a Man Thinketh, James Allen
Psychocybernetics, M. Maltz
Taming Your Gremlins, Richard Carson
The Job Search Solution, Tony Beshara(OK, so that last one is my book. It has a lot of positive information that relates to finding a job and life in general)
I can recommend spiritual books, like the Bible, Torah, Koran, etc., and prayer as well.
Motivational tapes by:
Brian Tracy
Anthony Robbins
Phil McGraw (Dr. Phil)
Dennis Waitle
Zig Ziglar
Wayne Dyer
Steven Covey
Dan Millman